Ethereum is Experiencing Consistent Supply Depletion Due to Massive Exchange Withdrawals
After briefly spiking to highs above $3,900, Ethereum (ETH) continues to showcase its potential in the crypto space.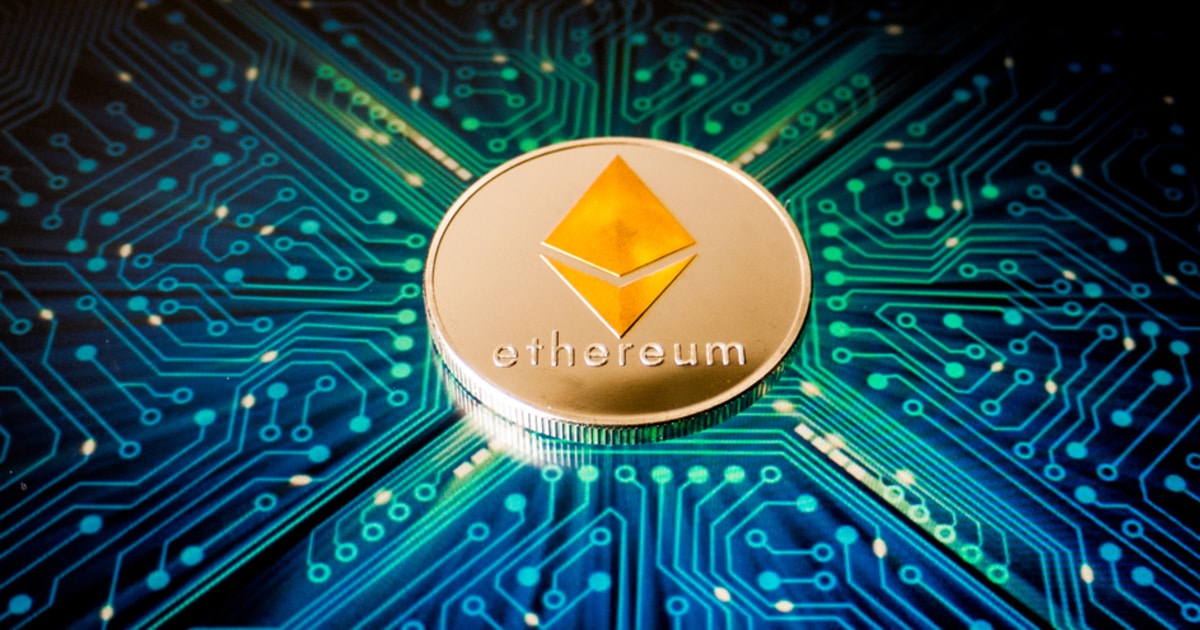 ETH has enjoyed a remarkable bull run since it breached the previous high of $1,400 set in 2018 and currently sits at $3,920 at the time of writing.
Ethereum is leaving crypto exchanges in droves, as alluded to by Documenting Ethereum. The crypto data provider explained:
"The chart below demonstrates that there have been 10 withdrawals of over 200k ETH/day in 2021 from exchanges which suggests consistent supply depletion."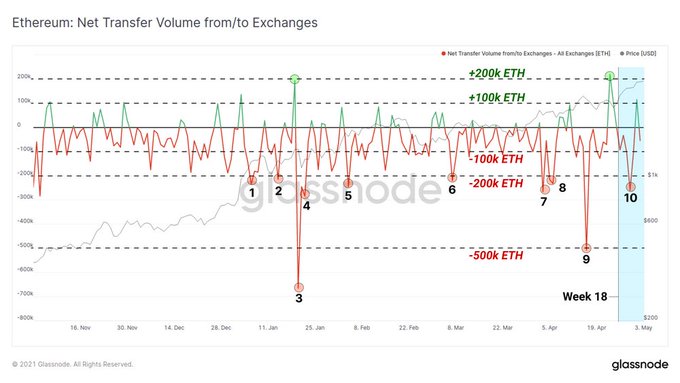 The withdrawals from exchanges have been massive, causing a supply deficit as demand continues to soar. Ethereum's bull run saw the second-largest cryptocurrency breach the psychological price of $3,000 recently, and its eyes seem set on the $5,000 level.
Whenever cryptocurrencies leave exchanges, there is a high probability they are kept in cold storage for speculative or future purposes. Therefore, based on market forces, price is expected to surge as supply gets depleted and demand increases.
Ethereum on exchanges fall to 12% of circulating supply
According to on-chain metrics provider Glassnode:
"Ethereum supply dynamics tell a compelling story for the future for the protocol. ETH on exchanges falls to 12.0% of circulating supply, as Ether in smart contracts rises to 22.8%."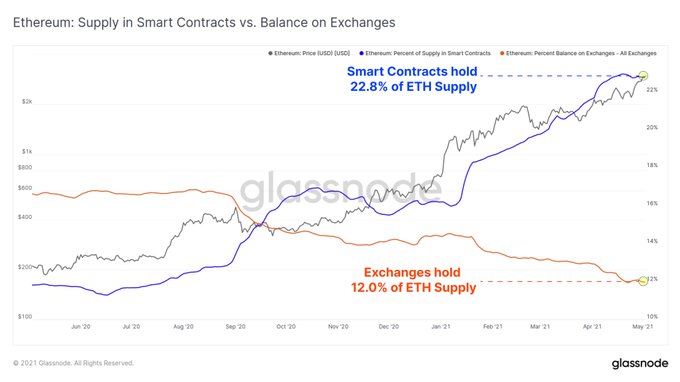 This, therefore, shows that ETH locked in decentralized finance contracts is accelerating. For instance, the total value in Ethereum 2.0 deposit contract recently hit an all-time high (ATH) of more than $11 billion.  
Conversely, Ethereum in exchanges is continuously being depleted, implying growing confidence.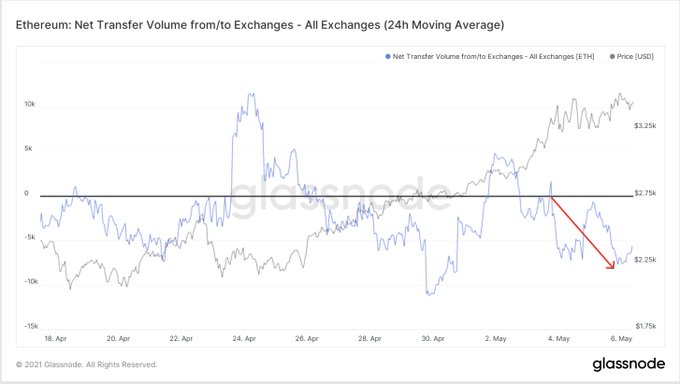 Moreover, a recent Glassnode report noted that Ethereum coins aged between one and six months were progressively increasing in thickness. Therefore, suggesting that hodling or holding ETH accumulated in the early bull market is still a favoured strategy. 
As the clock ticks, time will tell whether Ethereum's next target of $5,000 will be hit in 2021. 
Image source: Shutterstock

Read More
Source: Ethereum is Experiencing Consistent Supply Depletion Due to Massive Exchange Withdrawals